Skin conditions in cats and dogs need accurate diagnosis and treatment. With years of training and experience in veterinary dermatology, our board-certified dermatologist in Tucson can identify various conditions and treat them effectively.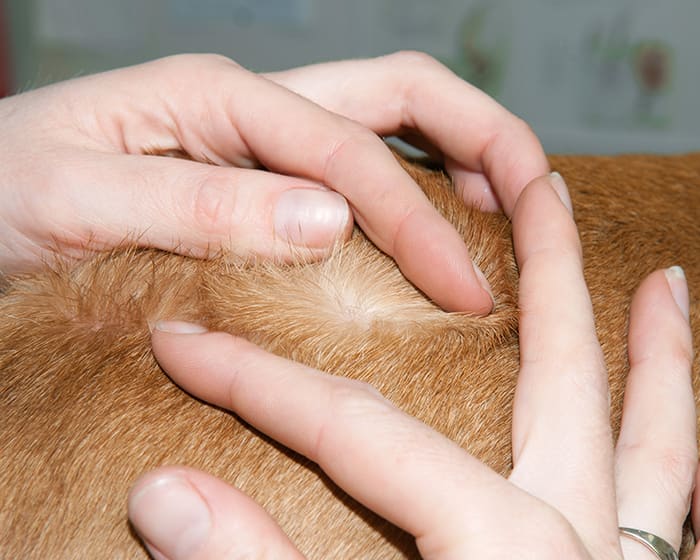 Veterinary Dermatology Services
Cats and dogs can experience a number of chronic, inflammatory and potentially serious disorders of the skin, hair, nails and ears that require specialized medical attention. 
Some of these are more common than others and may include bacterial infections, allergies, chronic scratching, skin and fungal infections, hair loss, ectoparasites and immune-mediated conditions. 
With years of training and experience, our board-certified specialist in dermatology can differentiate between various skin conditions in pets. This allows for more accurate diagnosis - and consequently, the most effective treatment. 
Our Board-Certified Veterinary Dermatologist
A board-certified veterinary dermatologist has completed additional training in dermatology, following veterinary school. Throughout this training, a dermatologist also completes an internship and specialized residency, passes comprehensive exams, and completes publication requirements to become board-certified in Veterinary Dermatology by the American College of Veterinary Internal Medicine (ACVIM). 
Diagnosing Dermatologic Cases in Pets
At Veterinary Specialty Center of Tucson, our goal is to provide a co-ordinated team approach to caring for your pet's health. We perform all necessary diagnostics for a wide variety of conditions, allowing us to provide effective treatment. 
Examination & Diagnosis

At the beginning of each appointment, our veterinary dermatologist will review your pet's history. This will provide much-needed information to help us diagnose their skin condition.

Advanced diagnostic equipment and dermatologic testing procedures are used in our in-house lab, such as intradermal allergy testing, biopsy, skin scrapings or video otoscopy to identify and treat the underlying problem. 

Treatment Planning

Once we have determined the cause of your pet's skin condition, we will develop a customized plan to treat it. Treatment may include a specialized shampoo/conditioner, prescription medication, allergy vaccines, ear flush or changes in your pet's environment.